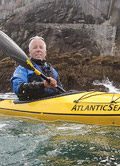 Jim Kennedy is passionate about kayaking. He has raced on the Irish national kayaking team at two sprint and two marathon world championships and is a level 5 Irish Canoe Union sea kayak instructor/coach. He has been Irish and British national sprint and marathon kayak champion both 500 and 10,000m. Recently he was picked as an Ambassador for Ireland's Adventure Tourism and the Wild Atlantic Way. So where's the romance?
Ever fancy a romantic kayaking trip to a deserted island and share a picnic with your loved one or float on the calm water on a moonlight/starlight kayak trip then sip a glass of champagne? Here are a couple of trips offered by Jim and Atlantic Sea Kayaking.

Day Trip:

Using our double kayaks we bring you both on a 4 hour romantic journey along the coast stopping off at an island where you can enjoy the isolation and the amazing scenery while sharing a delicious artisan picnic with your favourite person. Times to be confirmed but usually 12.00 noon to 4.00pm. Special rates for Cottages for Couples guests.